Discover the scientifically proven benefits of TAM-818, found only in One Truth 818
One Truth 818 is the first and only skincare with TAM-818, clinically proven to re-lengthen telomeres and un-do the biological ageing process
Visibly reverses the effects of ageing
Skin firmness up by an average of 20.33%
Decreased forehead wrinkles by 14.04%
Decreased crows feet wrinkles by 11.07%
Increased skin elasticity by 8.33%
8 out of 10 customers continue using One Truth 818
Based on Nobel Prize winning science
Vegan friendly
No cruelty to animals
*Results were shown over a 30 day period and were conducted independently at Abich Labs in Italy on 100 volunteers.
Real People, Real Results. Independently Tested. Scientifically Proven.
Made in New Zealand – Loved all over the world!
#1 SELLING SKINCARE ON


Watch One Truth 818 creator Rachael D'Aguiar explain more about Why we age, and how to stop ageing yourself faster!
Now think of all the products in your cupboard that claim to:
Increase cellular turnover!
Reveal fresh, new skin!
Bring young cells to the surface!
Watch Dr. Bill Andrews explain why Telomeres Shorten as we age.
Activate Telomerase for Youthful Skin
"An exceptional, scientifically proven product, created by a morally and ethically sound boutique company who authentically want the best skincare regime that works, for their clients. And did I mention? No animal testing. Bravo One Truth 818."

- Sara Wiseman
Simplify your skincare routine and save money
ONE TRUTH 818 SERUM + ATOMISER WILL LAST UP TO 10 WEEKs, AND CAN REPLACE:
1

Eye Creams

2

Neck Creams

3

Pigmentation Correctors

4

Hydrating Lotions

5

Hydrating Lotions
"Over 11 years and $33million in investment, my company Sierra Sciences screened more than 350,000 compounds looking for active ingredients to switch on the telomerase gene and re-lengthen the Telomere. The strongest I discovered was the 314,818th molecule tested and is known today as TAM-818 - it is 300x more powerful than any other anti-ageing active on the planet right now.

I then licensed this ingredient exclusively to Rachael D'Aguiar in New Zealand who created One Truth 818 and she conducted the largest topical telomerase activation clinical studies at Abich Labs in Italy. I whole heartedly endorse the use of TAM-818 in One Truth 818 skincare."

- Dr. Bill Andrews PhD

Before and after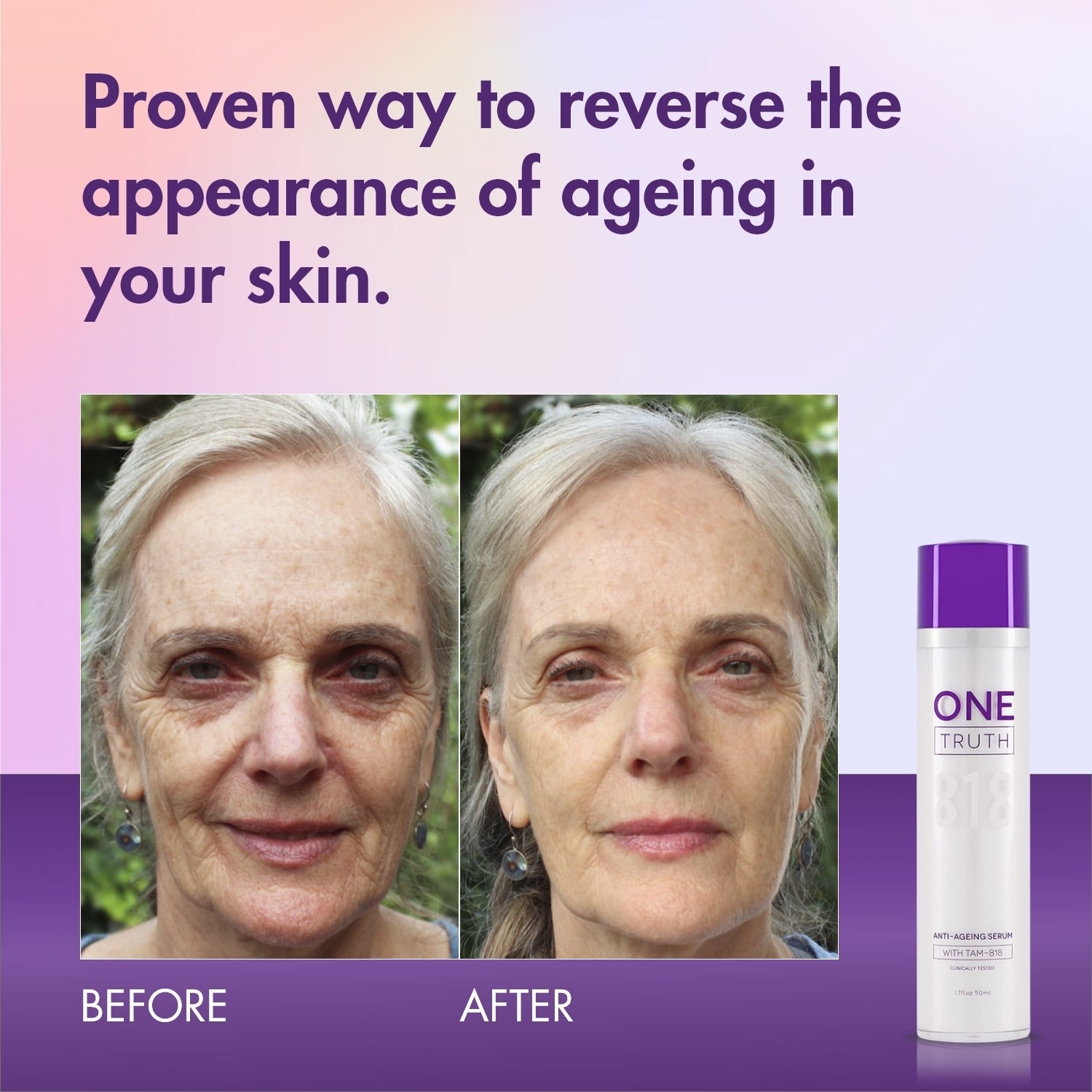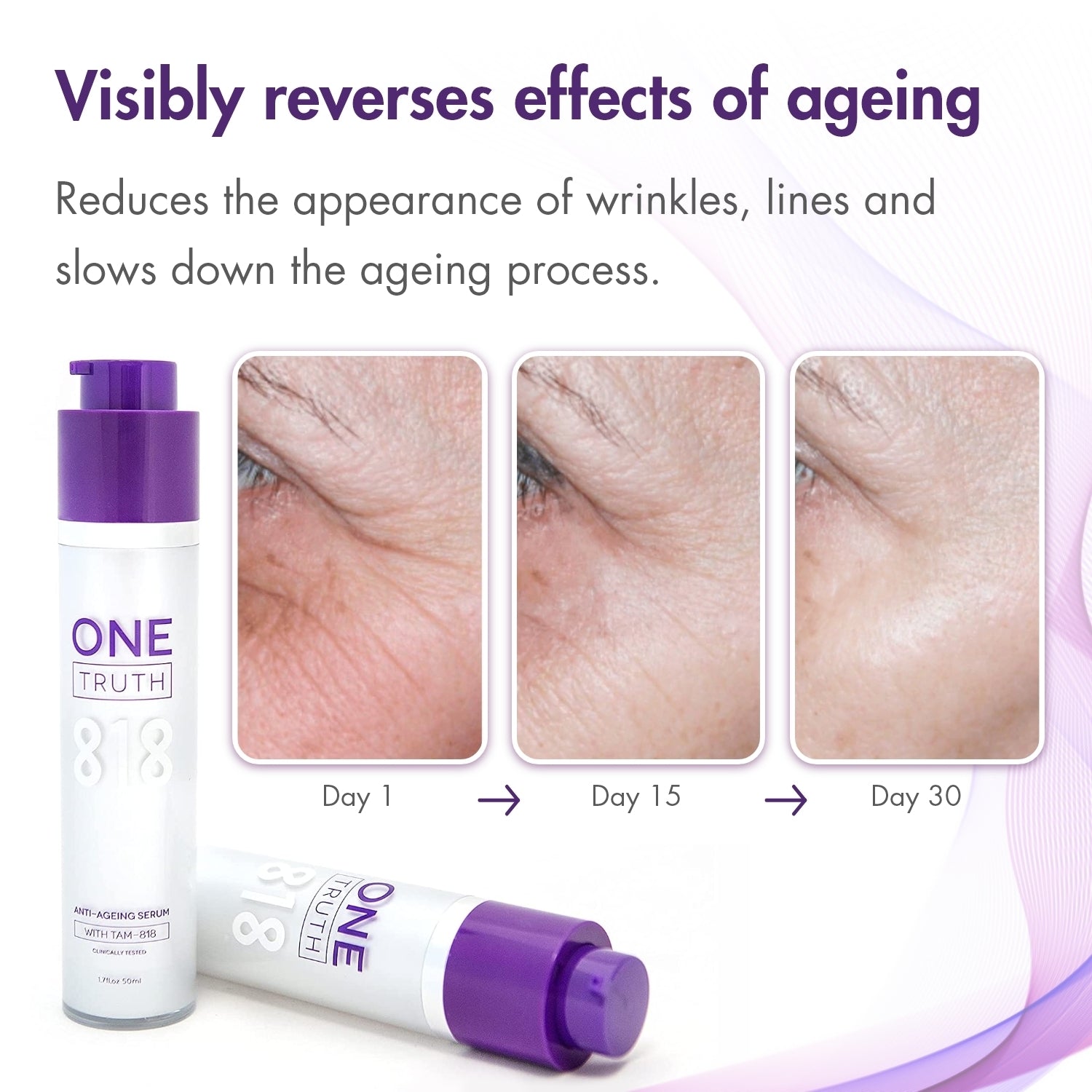 Can't wait to start seeing the results from One Truth 818? Then try it today!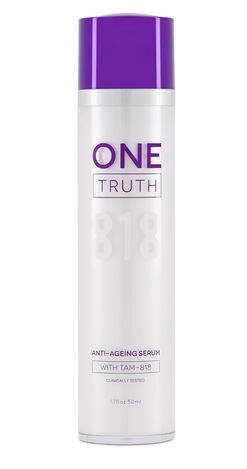 One Truth 818 Anti-Ageing Serum (50ml)
A light, cooling gel with a velvety feel that absorbs almost instantly into the skin.
Containing TAM-818, the world's most potent and unique telomerase activating ingredient which has the power to re-lengthen telomeres and un-do ageing at a cellular level.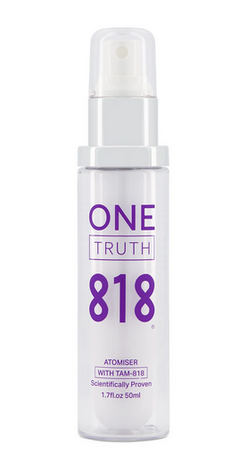 One Truth 818 Atomiser (50ml)
Oil-free hydrating spray formula to reverse the signs of ageing, naturally.
Contains TAM-818 in the same strength as the Serum. Use throughout the day, even over mineral makeup. Activating telomerase more regularly will yield a faster result.
"This face serum is great, it's seems an awful lot of money to spend on a face serum, BUT isn't really as it works as a serum, face cream, eye cream neck and Dec cream, so there is no need to buy many creams when 1 serum does the job of many creams. My face feels soft and moisturised and I am really seeing an improvement in under two week of using this serum, I have ordered 2 more as I don't want to be without it …ever!!"
"This face serum is great, it's seems an awful lot of money to spend on a face serum, BUT isn't really as it works as a serum, face cream, eye cream neck and Dec cream, so there is no need to buy many creams when 1 serum does the job of many creams. My face feels soft and moisturised and I am really seeing an improvement in under two week of using this serum, I have ordered 2 more as I don't want to be without it …ever!!"
"This face serum is great, it's seems an awful lot of money to spend on a face serum, BUT isn't really as it works as a serum, face cream, eye cream neck and Dec cream, so there is no need to buy many creams when 1 serum does the job of many creams. My face feels soft and moisturised and I am really seeing an improvement in under two week of using this serum, I have ordered 2 more as I don't want to be without it …ever!!"